Chihuahuas Kanga & Roo are a brother and sister pair who were both born without front legs. Of course, don't tell them they're missing anything, as they have no idea! They are truly the best of friends – they have their own special way of playing and are always wrestling or snuggling together. Kanga is the brother, the lighter fawn boy with the giant ears. Roo is equally sweet but a little more reserved, and her ears have their own special way of flopping. Their story is such an inspiration, proof that no matter our beginnings or limitations, a full and joyful life is still within our reach.
After being rescued from a situation where they weren't receiving the care they needed, they found their perfect forever home last year and are now three years old. Their amazing mom and dad shower them with more love and care than you could ever imagine. They've had wheelchairs made for Kanga and Roo, although when they're around the house they scoot around without them just fine – they either wear little white sock-like sweaters to protect the skin on their chests and shoulders as they move around, or they play on the bed or a big cushioned play area so they can get around comfortably.
Kanga and Roo mostly scoot on their chests and use their back legs to propel them, but when they're very excited (i.e. when treats, toys, or new people arrive!), they hop on their back legs and can actually get pretty far on those powerful back legs. Their mom and dad feed them a vitamin-rich diet to keep their joints strengthened, and they love to eat fruits and vegetables. The treat of choice for our session were tiny slices of fresh apple!
If any of you are familiar with chihuahuas, you know they're lovable but can also be a bit finicky about who they like and don't like (I have a chihuahua mix myself!)…that is not the case with Kanga and Roo. Even though they started out the beginning of their life confined to a bathroom, you would never know it by how social and outgoing they are. They've never met a stranger and they wiggle from head to toe with excitement when they anticipate affection, and are so gentle and loving. They'll curl up on your chest or against your neck like cats when they're all tuckered out.
I could go on all day about these two, but I'm sure you're dying to see the photos! Meet Kanga and Roo: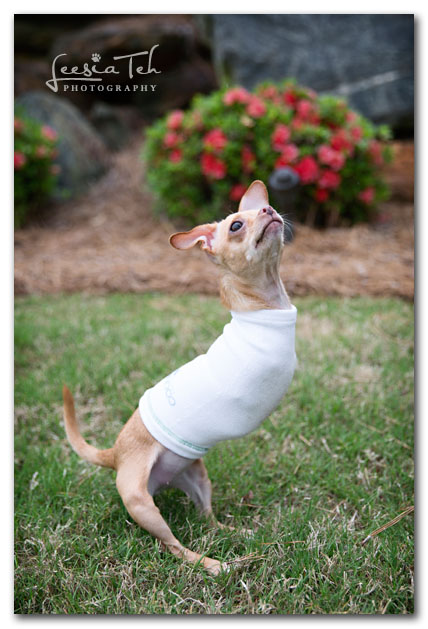 On their play mat: