It's a wonder I was able to shoot this session because I wanted to spend all of my time on the floor cuddling with them instead! They are quite the welcoming committee – they all rush to the front door barking when they hear a knock, but as soon as you step into the house you're not a stranger anymore and they are wagging fluffballs jumping up and down to be picked up, held, and loved on.
All four are rescues with each of their own adorable quirks. Whiskey is a brown shih tzu who was saved from a puppy mill with burns down his back, but they have healed well now that he's in a good place. He thinks he's a cat – he's always sneaking up on the kitchen table to snooze, and is so lazy that he sometimes won't make it all the way down the hallway before he stops for a little nap! When treats are out, he's a 100% awake, though. :p
Gidget is a terrier mix who was found as a stray, and the only girl in the pack, so of course she rules the roost. She LOVES tiny tennis balls and will toss them to herself when her humans get tired. Her ears are probably on their own frequency.
Mr. Puppy is the youngest of the group, and the miracle puppy – he was tiny when they rescued him and discovered he had a serious liver shunt. Thanks to lots of love and care, he recovered and is now in full health, the feistiest and most independent of this bunch. His human brother and sisters couldn't agree on a name for him, so ended up with "Mr. Puppy." When he is cranky they call him Señor Puppy!
Teddy is the most recently adopted – he's a Biro Yorkshire Terrier, but he spent the first two years of his life in backyard breeder's outdoor cage. Except for those moments he retreats to the closet, though, you'd never know he had such a rough start! He is very loving, super cuddly, and you know I'm especially partial to him because of his short little legs! He has the best smile and such a peaceful, easygoing personality.
Here are the boys – from left to right, Mr. Puppy, Whiskey, and Teddy: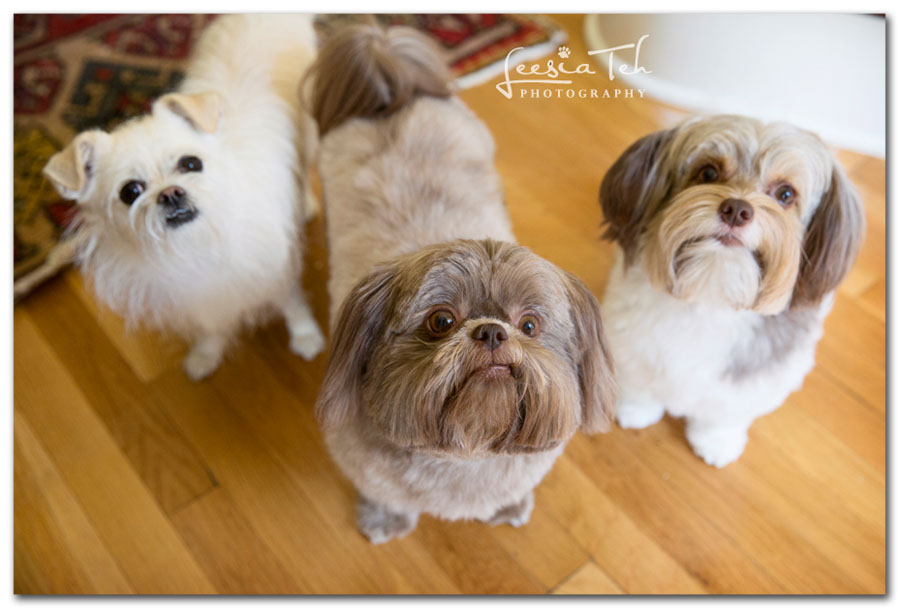 And Gidget, the queen that she is, needed her own debut photo!