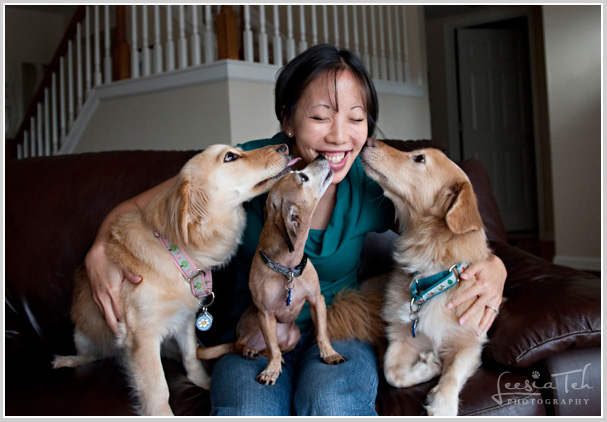 I firmly believe that our pets are family members too and deserve lasting, timeless images that capture who they are as we really know them. Why shouldn't we have portraits of our beloved dogs and cats on our mantels, desks, or walls right alongside the humans who have infused our lives with joy and love?
I am totally, 100% crazy-in-love with dogs and cats alike and feel so lucky to be a pet photographer in my tenth year of business. I earned a degree from UGA with a photojournalism emphasis, and when we adopted Becks, a Golden Retriever/Dachshund mix (yes, really!) from Atlanta Pet Rescue, everything fell into place. He was so unique, with his Golden body, stumpy legs, and amber-colored eyes, that I started feeling this compulsion to capture every little thing he did: the way he smiles after a good long walk, the way he tucks his paws under his chest or rests his head on the pillow…the list went on and on.
And so it began! My work has been voted Best Pet Photography in Atlanta and has appeared in various local and national publications, including Country Living, The Bark, and Dogster and Catster magazines. In addition to shooting client commissions, I also donate thousands of dollars each year in services and print sales to local animal welfare organizations.
My husband and I share our home with three rescue mutts: Becks, Ellie, a Corgi/Beagle mix, and Sienna, an Italian Greyhound/Chihuahua mix. In 2013, we added our first cat, BC, to our family!
Giving Back
Rescuing and re-homing lost and abandoned pets is a cause very near and dear to my heart, as all of my own dogs and cats are adopted. I donate my time to non-profit organizations by photographing adoptable pets for websites and marketing materials. If you know of an organization that could use my services, please contact me using the contact link on this site, or email me at leesia [at] leesiateh [dot] com.